African women wall decor ornament wooden decorative painting set is presented to the taste of its users to add a tasteful visuality to your space. When the entire set of four is placed together, it can create a vivid and textured effect on the wall.
You can also create different looks by hanging the decorative parts of the African women wall ornament separately. Wooden decorative painting is cut directly from MDF material by laser method. Thus, a long-lasting and extremely impressive decoration product is obtained. It appeals to your eye taste with the simplicity and nobility of black color.
African themed, four piece painting set
Laser cutting wood material
it measures 47 x 12 cm, 47 x 18 cm, 47 x 19 cm, 47 x 26 cm
What are the Dimensions?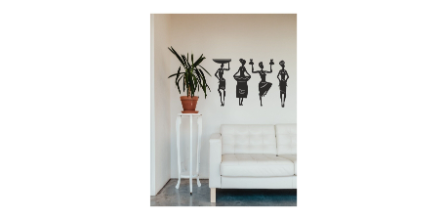 Each figure of the painting is 47 cm tall. When hung with a Decimation of 5 cm between the wall figures, it has a total width of 90 cm. Matte black laser-cut pieces can create a visual feast with the contrast they create on your light color walls. while designing, inspiration was taken from the authentic culture of the African continent. Wall decor ornaments depict details of clothes, things and accessories on the silhouettes of individual African exotic women. Lightweight pieces can be hung on surfaces such as walls or tiles with the help of double-sided silicone tape.
it is produced from 3 mm thick black painted MDF wood material by laser cutting method. Thanks to its material and production technique, it is an extremely lightweight, durable and long-lasting product. Each figure of the wall ornament is sent with high-quality double-sided tape applied to the back. Thus, as soon as you receive your wooden decor, you can easily apply it to your wall.It is recommended not to expose it to direct sunlight so that its color does not fade. The black painted MDF material of the figures is resistant to short-term liquid contact. For cleaning, it is recommended to wipe with a damp cloth and then dry. Thus, this accessory, which will add beauty to your room, can stay on your wall as on the first day, as long as you do not download it.
Where Is It Used?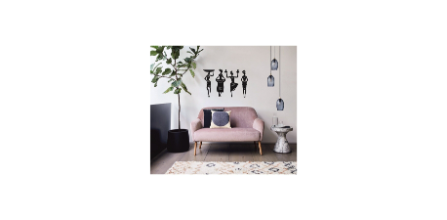 The decorative painting can be used on smooth surfaces to which double-sided tape can be glued. In this way, your decorative table, which is hung in a practical way, does not damage your walls, as it does not require operations such as drilling or screwing. Before hanging the product, it may be useful to test the adhesion status with a small piece of double-sided tape on a part of the wall that is not too visible. It is produced by innovative laser cutting method. Thanks to this method, figures with modern and smooth lines can add a separate aesthetic feeling to each space they are used in. It can be used in your bedroom, entrance, corridor, kitchen, living room or office, which allows you to easily capture the decorative mood you are looking for